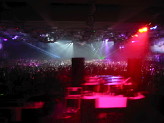 Many party promoters enforce a zero-tolerance policy towards GHB while turning a blind eye to crystal meth.
GHB (gamma hydroxybutyrate) is derived from GBL (gamma butyrolactone), depressants which if used in moderation leave the system in an hour or so with no lasting detrimental effect, but if overdosed induce a deep, coma-like sleep. If recklessly consumed in large dosages, or taken with alcohol and other drugs or by those with abnormal blood pressure, GHB and GBL can kill.
The unwholesome prospect of on-site paramedics tending to messy customers sprawled around their premises, and the negative publicity and attention such behaviour attracts, invariably prompts promoters to clamp down hardest on GHB, even though countless party-goers, particularly in the States, have been introduced to, and ensnared by, crystal meth at the same venues and have gone on to suffer unimaginable physiological and psychological turmoil long after the music has stopped, out-of-sight and, therefore, out-of-mind.
In 2000 there were 20 recorded GHB-related deaths across North America. In San Francisco that year, there were 29 known meth-related fatalities alone.
Most US club and circuit promoters focus their efforts on banning GHB and GBL while effectively condoning the presence of meth – "the silent killer" – on their premises by turning a blind eye to its use. Yet as well as clamping down on GHB, they have the resources also to:
• Exercise a similar zero-tolerance approach to crystal;
• Issue the full facts to patrons at entry points;
• Clamp down on their DJs' "crystal-friendly" playlists;
• Stamp out meth-fueled anti-social behaviour.
Every year, International Male Leather (IML) in Chicago is billed as a meth zero-tolerence event, with tweakers and dealers warned in advance to: "STAY HOME! We have no use for crystal meth at any of our functions", or face arrest. IML proves how simple and effective such an approach can be, and in 2006 San Diego gay bar and club owners met to discuss establishing a similar policy. In Montreal, organisers of Black & Blue post messages like "Crystal is best at Tiffany's!" on the inside of cubicle doors at each party.
The combined destructive toll of meth and GHB/GBL is evident by the gradual erosion of the global gay scene. The mass club closures across America due to their antisocial use is now being repeated in other seemingly once invincible cities from London to Sydney…
While it can be argued all mind-altering drugs are harmful, period, such a generalisation woefully ignores the fact that no two drugs are the same, and none come close to crystal meth in terms of the psychological harm it is capable of causing.
The overly politically correct stance of gay men's sexual health agencies has long demanded that all drugs be treated equally with none meriting particular attention over another – a stand that has enabled those who had the means and resources to prevent the crystal epidemic to instead look the other way and allow meth and, by association, HIV to spread and thrive. If meth really is no more dangerous than any other drug then why has there never been an ecstasy or ketamine epidemic or 12-steps programs around their use?
Ecstasy has received a damning press over the years, not least following the results of a 2002 study published by prestigious journal, Science, which concluded that it causes irreversible brain damage and can trigger the onset of Parkinson's disease. Johns Hopkins University in Baltimore, Maryland – which attracts millions of dollars of research funding from the US government and various interested corporations – recorded that just one hit of ecstasy could lead to the condition, sparking frenzied demands from anti-drugs crusaders and zealots for a renewed crackdown. Nobody bothered to point out to the scientists involved in the research that ecstasy users don't tend to lose their jobs, their relationships or their lives, and a year later they admitted they had "blundered", and that samples of "ecstasy" which they based their conclusions on were, in fact, meth.
In an unprecedented and humiliating climbdown Science was forced to publish a retraction, the scientists responsible attributing the "mistake" to a lab mix-up and human error. However, the admission reignited the dispute between scientists charged with investigating the genuine risks or benefits of ecstasy use. Some non-government-funded studies conclude that ecstasy has no long-term impact at all on the levels of the hormone serotonin in the brain and that it should be legalised for therapeutic as well as medicinal purposes, including the positive affect it appears to have in controlling the symptoms of…Parkinson's Disease! A recent study concludes that ecstasy can reverse the symptoms of Parkinson's because it can help correct stiffness, tremor and other problems linked to a lack of dopamine, brain neurotransmitter ravaged by methamphetamine.
In 2005, The American multidisciplinary Association for Psychedelic Studies ran a trial to develop ecstasy into a prescription medicine aimed at people suffering post-traumatic stress disorder, and in Boston 12 cancer patients underwent a pilot study to investigate whether ecstasy can help alleviate the terminally ill's anxiety and fears as they approach death. Dr John Halpern, a Harvard research psychiatrist leading the trial, described ecstasy as "ego-friendly" and, unlike some painkillers, doesn't over-sedate people and make them foggy and unsteady, instead serving to reduce stress and increase empathy. In another trial, traumatised soldiers returning from Iraq are being offered ecstasy to help free them of flashbacks and nightmares.
In light of John Hopkins University's admission, it has been suggested that the erroneous study published in Science was deliberately manipulated to bolster the chances of the Illicit Drug Anti-Proliferation Act of 2003 – which cited ecstasy as "a formidable threat to America" – being passed by US Congress, and that other disparaging studies of the "love drug" over the years were similarly unfounded or exaggerated under pressure from a government conversely unresponsive to tackling the more dangerous threat posed by methamphetamine [see Combat Meth Act].
"By keeping the oppressed (or worker) intoxicated, it allows the oppressor (or ruling class) greater control."
~ Dr Kenneth Cimino [The Politics of Crystal Meth]
The UK government was itself accused of suppressing the results of a study by the Medical Research Council which analysed the 20 most commonly used mind-altering substances, ranked in order of their addictive qualities, social harm and physical damage. Heroin and cocaine topped the league table, but ecstasy came 18th – below alcohol, ketamine, cannabis and even tobacco – and just one place ahead of alkyl nitrates (poppers). GHB was at 17, and crystal meth was excluded due to its still relative low use in the UK. Nevertheless, ecstasy remains a Class A drug in the UK, ranked alongside heroin, crack cocaine and the newly reclassified crystal meth, although the government's drug advisors, the Advisory Council on the Misuse of Drugs, are actively calling for its downgrading to Class B.
Contrary to the negative mainstream press ecstasy has received, thousands of gay men used the pill throughout its 1980-90s heyday to erase barriers, connect with feelings they would otherwise not allow themselves to feel, and unite in tribal union at circuit events or for several hours on a Saturday night with no long-lasting or progressively debilitating affects. By comparison, the meth high may last longer and make the user initially feel euphoric and alert the first few times he uses, but he will also be argumentative, self-righteous, interruptive, agitated and aloof before the impending, agonising crash sets in.
Meth is ecstasy's polar opposite having spawned a breed of intense party-goers, transforming once uplifting dance environments into battlegrounds of testosterone-soaked hostility. 
At $20-30 a hit, the cost of ecstasy in the States has been a key factor in crystal's rise to prominence, compounded by the pill's ever-diminishing strength over the years. Many have become addicted to crystal via pills sold as ecstasy but tainted with varying amounts of meth, while others are unscrupulously tricked into taking meth believing they are being offered ketamine or cocaine.
In August 2006, US government researchers announced significant success in treating depression using injectable ketamine, which they discovered acted much more quickly than conventional antidepressants. The dissociative symptoms of ketamine completely disappear within a couple of hours, after which patients and physicians reported a dramatic improvement in mood.
"Is it not the modern nirvana, the utopia of a neurotic generation, the idea that the demons lurking in the nether regions of the cerebral cortex could just… evaporate? Reigning there in the wet muck of the Freudian dark, the gargoyles of the mind took ketamine like a hit of kryptonite."
~ Neely Tucker [The Washington Post]
IN 2000 there were 20
recorded GHB-related
DEATHS across North
America, and 29 known
CRYSTAL-related
FATALITIES in
San Francisco
ALONE.