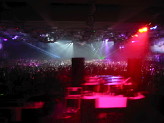 From 2000, the speed and viciousness of crystal's spread cut a vast, soul-destroying swath through the heart of New York's social scene, draining it of energy, vitality, and almost turning the community in on itself.
The relatively cheap, long-lasting substance soon replaced cocaine and ecstasy as the party/sex drug of choice. Faces that once appeared fresh and vibrant quickly became noticeably gaunt and etched with anger and anxiety as crystal took its toll. Dance venues like Roxy and Exit became darker and edgier by the week as anti-social displays of ego and power-play compensated for inner feelings of paranoia, inferiority, helplessness, agitation and sexual tension.
In a statement to the New York Times in August 2004, Roxy promoter John Blair appeared to come out publicly against meth, describing it as "by far the worst drug I've ever seen happen to nightlife – it not only takes over people's lives, but it really negates what the whole scene is supposed to be about." Yet just three months earlier Blair had told the New York Blade: "I've been in this business for a couple of decades, and I've never seen a more dangerous, more destructive or scarier drug than GHB."
From 2001, Roxy's dance floor began resembling a bleak no-man's land where crashing "tweakers" would sway and grind to the anxiety-inducing banging of pots and pans. Many began staying home, logging in to internet hook-up sites and partying all weekend long with the wonder drug they were introduced to, and weaned on, at Roxy. In March 2007, when Roxy closed its doors for the final time, Berkley finally conceded: "For the past few years it's been about 9/11, drug raids, crystal meth, the internet, bad music, bottle service and high prices."
"While this club certainly helped us dance through the nightmare of the AIDS epidemic, it was also a context in which the strobing lights, excellent mixings of the DJs and rampant drug use of everything from alcohol to crystal meth worked synergistically to make us forget our own collective responsibilities and helped fuel the epidemic which continues to takes its toll on us today."
~ Dr. Perry N. Halkitis PhD, MS
Quitting the New York scene after ten years, in 2005 DJ Julian Marsh told New York Blade of his disillusionment with a circuit scene in a state of terminal decline, largely ruined by pots and pans due to the influence of DJs like Junior Vasquez. "I just never went that route," he said. "I stayed with all the happy music… Back in 1995, pretty much everybody played upbeat, happy music. It was a wonderful time. Then things began to get dark. Now, with everyone doing crystal, they can't handle more than a rhythm."
"Club promoters themselves need to stay off crystal, and for my part I've curtailed the hours I play. Playing after noon is just ridiculous and hypocritical if I'm anti-crystal, which I most definitely am, because the only people there will be those who can't come down…"
~ DJ Junior Vasquez [US DJ, September 2005]
Alegria's Ric Sena spearheaded the assault against crystal among Manhattan's gay club promoters, adorning his Crobar parties with LIFE OR METH posters and including anti-meth messages in his email updates. "Crystal meth is really hurting our community and we need to do something to help so many of our friends in trouble," said Sena in 2005. "Go out of your way, give a hand and show you care. We should not let something like this keep hurting our community so bad. Love each other and, most important of all, love yourself."
In reverse gear, the 2006 Black Party enlisted DJ Peter Rauhofer, whose banging eight-hour set annoyed many attracted back to the event following Chus & Ceballos's spirited headline gig a year earlier. "[Rauhofer] played quite a few completely skull crushing, damaging hard house records that sounded like they came from the pits of hell," noted an approving fan on Rauhofer's official web site, prompting Black Party producer, Steven Pevner, to publicly decree "No pots and pans" in the run-up to the 2007 event.
Between May 2001 and May 2002, Manhattan's Crystal Meth Anonymous meetings exploded from one a week to eight, with attendance quadrupling from 15 to as many as 60 people per session. 
Today there are 30 meetings a week as a growing tide of gay men in the city awaken to their problem and empower themselves to overcome meth addiction. The strong sense of spirit and comradery that pervades these meetings has revealed a positive flip side to crystal abuse. Despite the many casualties and fatalities associated with meth, for some it has inadvertently provided the catalyst for healing, transformation and awakening where previously no spiritual awareness existed. A growing legion of gay men, once helpless meth abusers, are reaching within and discovering a whole new meaning, clarity and dimension to the quality and substance of their lives, rising from the blackest of despair to truly love and respect themselves and others, and to live life to the full.
Paradoxically, meth has provided the key, or wake-up call, through which growing numbers of gay men are learning to come to terms with – and overcoming – their addictive, compulsive and obsessive behavioural patterns, in the process discovering their capacity for empathy, compassion and love. Yet, for every abuser who sees light at the end of the tunnel, others continue to plunge. "Suicide Tuesday" is the most popular CMA meeting, drawing up to 100 users recovering from the previous weekend; a far cry from the city's first weekly meeting in 1998, the year of Viagra's arrival, attended by just a handful of people.
"I just got off the C train. From 23rd to 42nd Street, I watched a guy fondle himself, eyes black disks, as he tried to lure any man back to his lair… I walked on 22nd from 8th Avenue to 7th Avenue — "Tweakers' Row" — and on a Wednesday night it was lively. Who has guts to call the game over?"
~ Scott Wager [New York Blade, May 5th 2006]
Triggering the anti-crystal backlash in New York, in January 2004 local AIDS activist Peter Staley self-funded a $6,000 poster campaign blitzing Chelsea's Verizon phone booths with the message Huge Sale! Buy crystal, get HIV Free! in an effort to demonise meth. This followed the first ever, LIFE OR METH-inspired national poster campaign, Meth = Death, launched in 2003 by former meth addicts in conjunction with New York's Gay Men's Health Crisis and Miami's United Foundation of AIDS.
In November 2004, federal prosecutors postponed a radical poster campaign, Faces of Meth, depicting the names and faces of actual convicted meth dealers alongside messages such as Over six years for selling crystal meth. Was it worth it? Due to be posted around meth-ravaged neighbourhoods, the posters provoked outrage from local activists who claimed that "non-violent" gay men who sell small quantities of meth to finance their habit would feel threatened and intimidated by the campaign's forthright approach.
The inspiration for Faces of Meth followed the clamping down by Federal Law Enforcement on meth dealers in the city. Earlier, in an operation dubbed "Operation Chelsea Connection", law enforcement officers arrested eight men for possessing and supplying the drug, including a 46-year-old Manhattan artist jailed for seven years for selling one ounce of crystal to an undercover agent for $2,800.
Peter Staley's Crystal Meth Working Group joined forces with HIV Forum for his second poster campaign in December 2004; a radical new approach depicting healthy, clean-cut men with placards proclaiming Crystal Free and Sexy (above). The approach received initial acclaim for its use of positive imagery but failed to register with meth abusers themselves, while critics suggested such campaigns send the wrong message. "The ads are saying 'I'm sexy and there are a lot of people who are doing meth that look like this but I'm not one of them, believe it or not.' It doesn't work," argues Dan Savage, a Seattle-based, nationally syndicated sex columnist. "You're an idiot if you do crystal meth, and that should be the campaign."
HIV Forum's follow-up campaign, Crystal Meth Makes Me Sexy (right), reverted to provocative, in-your-face basics to provoke a community conversation about the drug. "Our ads are invariably controversial," Staley says. "In fact, we design them hoping they will be," while HIV Forum's Dan Carlson hopes such ads will attract the attention of gay men, "by challenging socially accepted norms and behaviours around crystal use."
Elsewhere, several groups teamed up in 2005 to address meth use by African-Americans in Manhattan after research showed a dramatic increase in use among black gay men. Correspondingly, The Centers of Disease Control announced that 46% of all black gay men living in New York City were HIV-positive, prompting a two-hour forum in November 2005 – sponsored by People of Color in Crisis, Gay Men of African Descent and the New York State Black Gay Network – to confront the issue.
More recently, the city's LGBT Community Centre launched Silence = Meth, a reinterpretation of ACT UP's famous 1980s campaign when posters bearing the words "Silence=Death" provoked a wake-up call to action. Said Richard Burns, executive director of the Centre: "Just as the ACT UP campaign alerted the gay community to AIDS, [this] campaign will focus attention on the danger of crystal meth and what the entire community must do to help prevent abuse and addiction to this drug."
In Manhattan, the proportion of new HIV diagnoses attributable to MSM increased from 26% of all new diagnoses to 39% between July 2003 and July 2004, the highest rates of infection being among 35-49 year olds – the generation that avoided HIV for over 20 years.
"It is tragic to see the spread of HIV in countries where people don't have an education and there aren't good communications and hospitals and doctors. To see it here in New York City, I think, is much more tragic because shame on us. We certainly should be able to stop the spread."
~ Mayor Michael R. Bloomberg
Overall, the city's health department reported an increase in new diagnoses among men who have sex with men (MSM) under 30 from 2001 to 2004 while new diagoses among MSM over 30 declined, fueling speculation that most MSM over 30 who stood to be infected are now infected and that the virus is now filtering beyond this core pool to uninfected groups. "[These statistics] are deeply, deeply troubling," said City Council Speaker Christine Quinn, "because it's clear that the message is not getting out to younger people in this city, the message about how severe HIV and AIDS can be if you contract it, the message that you can protect yourself and prevent that from happening."
After three years of increasing sexual liberalism and corresponding increases in STDs and drug use following the appointment of Michael Bloomberg as Mayor of New York, the city's Department of Health has been monitoring and shutting down venues which blatantly promote public sex. The long-established Wall Street Sauna – one of several in the city notorious for meth-fueled barebacking among patrons – was forced to close down in 2004 on health grounds after more than 30 incidences of high-risk sex were recorded by undercover inspectors in the preceeding 12 months.
"We have evolved from almost complete intolerance of commercial multi-partner sex (1986) to muted tolerance so long as it was scrupulously safe (1987-88) to denial and confusion when it entered the grey zone of possibly unsafe (1989) to indifference when it became blatantly unsafe (1990-today)."
~ Gabriel Rotello [Author, Sexual Ecology]
According to the Centre for Health, Identity, Behaviour and Prevention Studies at New York University, three-quarters of gay meth users snort the drug, half smoke it and 7% inject.
Corresponding with a dramatic increase in hepatitis C infection among gay men in the city, Manhattan's Department of Health has noted a marked increase in the numbers of men injecting, or "slamming", meth in recent years, as have several harm-reduction centres which operate needle exchange programs. Injecting is widely practised among gay men on the west coast but a relatively new phenomenon on the east, prompting Eleanor Nealy, director of Mental Health & Social Services at the LGBT Centre, to call for aggressive intervention now "rather than waiting for an explosion of injection use here."
"It started out everyone was snorting, and if you smoked it you were an addict. Then everyone was smoking it and if you shot it you were an addict. The last time I went out, everyone was shooting."
~ A recovered New York crystal meth addict
Filmmaker Jay Corcoran's documentary film, Rock Bottom, chronicles the traumatising impact of crystal meth on the lives of a handful of gay men in New York City, who were filmed between March 2004 and February 2006. Ranging from poignant to shocking, as various men reveal how the insidious drug took control of their minds and bodies in ways they never expected, Corcoran says he was motivated to make Rock Bottom because, "After everything we [as gay men] went through with AIDS in the 1980s and 1990s… why are certain gay men suddenly self-destructing? I wanted to make an explicitly gay male film that could look at the sexuality in a way most gay films shy away from. This is not prurient – it gets at the issues behind gay male sex and addresses them in a very sober way."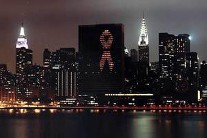 CRYSTAL METH cut a
vast, SOUL-DESTROYING
swathe through the heart
of NEW
YORK
CITY's
once
VIBRANT
and
bustling
social
scene.