Meth abusers can be prone to ruthless and potentially lethal acts of sexual sabotage, manipulation and deception.
"Mark" describes an incident at Fire Island one July 4 weekend. "I went home with a cute guy from the NYC Lesbian & Gay Centre's annual fundraiser party," he recalls. "He was speeding ahead of himself on Tina, but I always play safe and so assumed that it was me calling the shots. I seldom get penetrated, but this guy wasn't too well-endowed and so I thought why not? I saw him reach for a condom, rip open the packet and he put it on his dick. Five minutes later he pulled out. As I always do after sex, I immediately reached around to make sure that the condom was intact. But there was no condom – he had whipped it off just before entering me. I had to go on medication (PEP) for 30 days to safeguard against possible HIV infection, and I suffered nausea and chronic fatigue.
"The point is," stresses Mark, "I made the conscious decision to play safe with this guy, yet he deliberately
betrayed my trust and may have endangered my life. The scary thing is, the exact same thing happened to me in 2003 in San Francisco. Is the whipping off of condoms just prior to entry a common practise among meth abusers that others aren't aware off? I know guys who have tested positive yet swear blind that they practised safe sex 100% of the time. Tweakers have no conscience, and some seem determined to spread their HIV far and wide and go to any lengths to do so. And they are acting with impunity."
It may be only a matter of time before crystal is cited in criminal prosecutions for the intentional or reckless transmission of HIV, raising a mine-field of medical, legal and ethical questions.
In the UK, 72% of respondents to a Gay Times survey condoned prosecutions for the transmission of HIV due to non-disclosure, arguing that they provide justice and act as a deterrent. However, while HIV charities generally agree that it is acceptable to prosecute individuals who intentionally infect others, they argue that prosecutions for "reckless transmission" are wrong and increase stigma, discourage people from getting tested and could drive the HIV epidemic underground.
Daniel Sokol, medical ethicist at the Imperial College Faculty of Medicine in London, argues: "Even if there is no intent to cause harm at all, the person can still be blamed morally if he could have reasonably expected to have put the partner at risk or if he should have known. He has a duty to be informed about his condition and its transmitability. We can still criticise a reckless driver even if he didn't intend to cause any trouble and didn't know he had too much to drink. Ignorance is not enough to get us off the moral hook."
"[HIV]-negatives need to know that you can't trust someone who's using crystal meth."
~ Paul Lukakis [Singer]
During an HIV/crystal meth forum in New York City in November 2003, moderated by long-time HIV/AIDS activist Harvey Fierstein, one member of the audience stood up during the heated open-mic session and fumed that he had seen "people with KS lesions barebacking twenty-something twinks in sex clubs," and that HIV had become "a badge of honour." Other evidence suggests the emergence of "seroconversion parties" staged by a minority of HIV+ men who systematically target and "recruit" negative men into their world.
At a 2004 crystal meth forum at West Hollywood's City Hall – attended by 200 mostly older gay men, activists and medical specialists – one member of the audience stood up and shouted: "Where are the youth tonight? Us old guys should be at the back of the line cheering on the youth, not at the front of the line carrying the flag," prompting another to comment: "In case he missed something, our youth has been systematically devoured and spat out, first by AIDS and now crystal meth in the face of our so-called community's shameful indifference and complacency."
In his provocative landmark speech in New York City in November 2004, AIDS activist Larry Kramer branded as "murderers" positive gay men who have unsafe sex without disclosing their HIV status, regardless of whether they are acting under the assumption that if their HIV status isn't queried, their partner must be positive too. "I wish we could understand and take some responsibility for the fact that for some years we have been murdering each other with great facility," he said, "and that down deep inside of us, we knew what we were doing…"
In the US, as many as 50% of new HIV infections are from the 25% of HIVers who do not know their status, and the other 50% from the 75% who do, suggesting a major communication breakdown among partners who make incorrect and naive assumptions about each others' status due to lack of openness and non-disclosure. In recent years a form of "viral apartheid" has emerged, with HIV- men openly seeking others on internet hook-up sites – even though a declaration of negative status can never be guaranteed, least of all trusted – and HIV+ men indulging in unsafe sexual practices with each other, despite the risk of acquiring treatment-resistant strains, which is far higher during the earlier years of infection.
The alarming rise in meth-induced HIV transmissions in recent years has served to undo most of the tireless work of safe sex campaigners in North America and elsewhere since the start of the AIDS crisis. With new rates of infection now higher than at any time since the early 1990s, the potentially lethal union of crystal meth and Viagra has emerged as the new epidemic.
Life or meth? The choice is yours… •
• DEAD MEN WALKING: On the next page, an ex-abuser talks graphically about sex on crystal…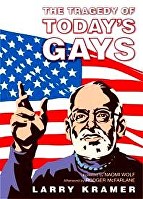 "I WISH
we could
understand
and take
some RESPONSIBILITY
for the fact that for
some years we have been
MURDERING each other
with GREAT FACILITY,
and that down DEEP
INSIDE of us, we KNEW
what we were doing…"