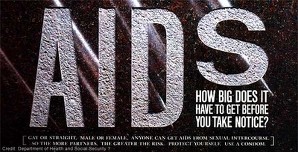 We have COMPLACENTLY come to regard the HIV sector as OMNIPRESENT – the MORAL ARBITERS and GUARDIANS of our health – BELIEVING that it can do no wrong and will ALWAYS guide us well. These ASSUMPTIONS we do not question, no matter how FALSE our sense of security or VIRULENT the EFFECTS of its POLICIES and AGENDAS may be.
"JUST LOOK AT US. Everything is backwards; everything is upside down. Doctors destroy health, lawyers destroy justice, universities destroy knowledge, governments destroy freedom, the major media destroys information, and religions destroys spirituality."
~ Michael Ellner
Notwithstanding the absurdity of HIV agencies receiving millions of dollars to provide services for HIVers while also funded to oversee HIV prevention, how could AID$ Inc. get back to the business of properly safeguarding the health of HIV- MSM in addition to providing for HIVers?
Aside from severing links with external funders and inventing imaginative new ways to raise income that doesn't come with conditions attached – thus ensuring it remains focused on the interests of those it professes to serve – of critical importance is to be less rigid and to react more swiftly and instinctively the next time a potentially devastating health threat emerges. This must include acknowledging the validity of anecdotal evidence which, combined with a depth of empathy and understanding, requires listening to, and not being in automatic denial of, what those from ground zero of the problem are trying to convey based on their firsthand experiences.
Such an approach would enable agencies to respond effectively and efficiently to the scale of human suffering and misery unfolding around them; overcome institutional obtuseness; negate the impulse to dispassionately rationalise; prevent dithering and waiting years for the science to catch up; and curb the current obsession with the time and energy-consuming assimilation of ultimately meaningless statistical data and public consultations because:
a) at-risk subgroups which such studies purport to identify fall mostly outside of the reach of standard information gathering techniques like face-to-face interviews and lengthy questionnaires, and;
b) a rational explanation for what is, essentially, a mass spiritual breakdown cannot be found in science-led evidence.
"Scientifically produced evidence can never be definitive, only transitory. We must not allow our confidence in 'evidence' to result only from science. It is sometimes more valuable when it comes from experience and common sense. It is invariably less expensive to acquire as well."
~ Brian Beber [FRSA, MSSCh, MSF, Expert Witness]
Meth addiction is a profoundly complex affliction of the human spirit that cannot be tangibly measured nor sufficiently responded to with the kind of square logic that yields "harm maintenance" booklets that enable users to "prepare and repair".
When AID$ Inc. comprehends this simple fact, the sooner it will be properly equipped and possess the will to tackle,head-on the plight facing the most vulnerable among us. Imagine an HIV sector that doesn't wallow in "compassion fatigue"; cite lack of funds as an opt-out clause; liken meth to any other drug or HIV to diabetes; dispassionately spout PC rhetoric at the flick of a switch; or regard HIV first and foremost as a treatable – as opposed to preventable – disease.
Instead, an HIV sector that embraces the humane premise that our well-being is a non-negotiable plank, and which strives to hit  prevention targets as opposed to HIV service user targets by engendering a warrior mentality in the minds of MSM who seek to remain negative while instilling integrity and personal responsibility in the minds of all HIV+ men who might otherwise recklessly or intentionally set out to infect others.
When LIFE OR METH launched in late 2002, in the US it was already clear to those at ground level that meth was a substance like no other in its propensity to wreak chaos and destroy lives, was spreading like wildfire across the States and emerging in gay communities in Australia and the UK, and that the correlation between meth use and HIV transmission posed a clear and present threat to the health and wellbeing of MSM. Yet, during the crucial intervening years as AID$ Inc. snoozed – sheltered in their ivory towers away from the real world as they demanded quantifiable proof of these "absurd" claims – the core group of users was, and still is, expanding, filtering meth and HIV into the rest of gay society and out into the mainstream population; a near-genocidal complacency not dissimilar to that of the US Government's towards safeguarding the people of New Orleans from a potential hurricane strike.
"Real leadership is defined by what we do. The Good Samaritan teaches us that it will cost money to help people, and sometimes we have to love them enough to pay the bill."
~ Bishop T. D. Jakes [Hurricane Katrina sermon]
How have we allowed AID$ Inc. to participate so cynically in a sub-sector of our society's physiological and psychological degradation and decimation? Its coffers are filled, ostensibly, to prevent the spread of HIV and identify potential sexual and HIV-related health threats before they occur, not long after the problem has reached a critical mass, is totally out of control and irreversible. Many community agencies reap sizeable dividends from fundraising "AIDS benefits" – often hedonistic circuit parties at which the very problems they are failing to confront stare them square in the face – yet wait years before contributing even a fraction of said funds to corresponding health education and awareness campaigns.
At the heart of the problem lies the fact that we have complacently come to regard the brainwashed disciples of political correctness who run AID$ Inc. today as omnipresent. As the moral arbiters and guardians of our health we assume they can do no wrong and will always be there to guide us well. These assumptions we do not question no matter how false our sense of security or virulent the effects of AID$ Inc.'s policies and agendas may be. 28 years into the AIDS crisis, meanwhile, HIV rates in the West soar faster than ever while a devastating new epidemic is upon us, which they ignored and now can't stop.
These chronic failures couldn't have occurred had the AIDS cause begun by a handful of loyal, passionate, brave pioneers almost thirty ago not been hijacked by a powerful alliance of outside interests in tow with greedy, scheming, unprincipled AIDS careerists who were willing to sell themselves to the highest bidder and say and do anything if that meant climbing an extra inch up the greasy pole. Career prostitutes who, in a monumental and defiant act of betrayal and self-interest, politicised, bureaucratised and commodified the sector, streamlining and brutally reducing the services of those it does cater for whilst revelling in their indecent, private sector-sized salaries, perks and generous pension schemes that reward failure while out in the communities clueless and uninformed MSM continue infecting and annihilating themselves.
This despicable, heartless way of condemning our own must give way to compassion-led responses which value and prioritise the health and wellbeing of HIV- and HIV+ men alike, and target each status individually with effective information tailored to each status's respective needs.
Of course, we neither expect nor desire AID$ Inc. to nanny us or hover at the entrances to dance parties, saunas or sex clubs like flocks of Florence Nightingales, forever imploring us to "Protect yourselves!" And there will always be a minority of MSM for whom safe sex/anti-meth messages will never register because they lead wilfully destructive lives, have little respect for themselves and those they partner with, or simply live for the thrill of the moment with no thought for the consequences. No, it is the ordinary gay man AID$ Inc. is betraying, particularly the young emerging into the gay lifestyle for the first time oblivious to the potential dangers that lurk in every shadow. And within the global gay village there are plenty of those…
Whether or not to engage in unsafe sex and/or to use crystal meth has to come down to individual choice and responsibility. The AIDS and sexual health agencies can't hold the hand of each man who must decide for himself whether or not to pursue such risks to his health and, possibly, life. But what they have an absolute social and moral duty to do is to make easily accessible and widely available to everyone faced with potentially life-impacting decisions prior preventive knowledge of where their lifestyle choices may lead to enable all to make informed choices.
Thanks to AID$ Inc.'s bumbling incompetence, unbridled greed and unbudging indifference, gay society is nearing a critical juncture – in some US cities an implosive point of no return. There is still time to buy back our corrupted HIV/sexual health sector and set it to work efficiently and effectively for us, but are we prepared to unite, dig deep enough into our own pockets and demand that all arrogant, close-minded, self-serving pseudo-corporations revert to being compassionate, accountable public service providers, empowering their communities to stay healthy via self-respecting behaviours and attitudes? Do we value our lives enough to become active advocates for positive change or do we remain on the sidelines, complicit bystanders and spectators of AID$ Inc.'s failures and inept policies and decision-making, as it grows ever more prosperous at the expense of our failing health and wellbeing?
"We have to come up with new models to teach gay men how to get involved with their communities and create new ways for them to be loving, healthy, responsible men, as opposed to the catty, vicious, self-hating people we too often see… Too many young gay men are still being mentored in gay communities on their knees or backs. This has to stop. There have to be other ways to 'be gay' than just drugs and sex."
~ Jay Dagenhart [Former meth user]
One thing is for sure: if we don't wake up to the insanity and greed that is decimating our world and start looking out for and protecting each other then our ever-deteriorating health and well-being will become terminal. The cost of inaction, quite simply, is too terrible a price to pay…
"If the collective brain-trust of the nation's health leadership is disheartened by the barebacking parties, surprised by syphilis cases linked to internet chatrooms and discouraged by drug use at dance clubs, they might understand that our failure to create a broad agenda for gay men's community-building and health promotion has left us vulnerable to a range of health hazards… It's time that a new generation of visionary, health-minded leaders emerged to work with the masses of gay men in our nation in tackling the formidable tasks ahead."
~ Eric Rofes, Ph.D. [US AIDS activist, 1954-2006]
The choice is yours. •
• Please Make a donation and help keep LIFE OR METH's message alive!