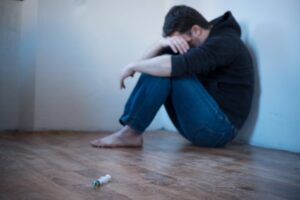 In this knowledge guide I'm going to quickly go through the effects of crystal meth with you.
We will talk about what it is, and the effects it produces when you take it. We will talk about the side effects and how they get worse.
I will also explain why crystal meth is so addictive and dangerous. It's destructive and damaging, and once you are in its grip there is no way back.
So what I want to do here is give you these quick facts so you can spot the danger and admit something that yourself before it's too late, so that you can turn around in the road and head back the other way.
What Exactly Is Crystal Meth?
Bizarrely, Crystal meth was first synthesized in Japan in 1919. During the second world war it was used to keep troops alert and awake, because it did this more effectively as a methamphetamine than the previously used amphetamines.
So it's a central nervous system stimulant that's been artificially made, and originally for express intention of keeping you alert, awake, focus, and positive.
The key positive feelings of methamphetamine are:
Euphoria
Self-confidence
Wakefulness
Increased energy and alertness
Feeling totally relaxed
Right up to the 1970s, methamphetamine supplements were used without prescription. They were used by athletes, truck drivers, and basically anyone who wanted alertness, focus, and a rush of positivity and happiness.
With more scrutiny though, it became obvious this stuff was highly addictive and damaging. Therefore, it was banned.
But criminal gangs quickly realized that there was still a market for it. Crystal meth is easy to make and highly addictive, making it perfect for producing high and repeat profits at the expense of people's rapidly diminishing health.
The Key Signs And Signals Of Crystal Meth Abuse
When you take it, Crystal meth produces an intense high. Your body will produce and flood itself with both dopamine and adrenaline.
This produces an incredible pleasure feeling. It's addictive in itself, because it makes you feel so fantastic.
The problem is that it's highly addictive. The part of your brain that deals with memory and emotion quickly links crystal meth use with pleasure and reward, especially because it spikes dopamine which is our risk and reward chemical.
Once you are hooked, and it will be rapid, these are the key signs of use and addiction:
Rapid speech
Inability to make sense sometimes
Dilated pupils
Significant body overheating
Vomiting & nausea
Delusional thinking
Confusion
Hallucinations
Insomnia
Depression
Anxiety
Anger and irritation
Changes in physical appearance (especially facially)
Significant weight loss
There are definitely other signals to watch out for though:
There are financial signals that you are addicted, including running out of money, stealing, borrowing money will never pay back, and cutting back on food and clothing for yourself and others in order to fund your habit.
Lying and cheating are key signals of heavy methamphetamine use. You literally lose all of your morals to get your next hit.
All of your thoughts end up about the drug. No matter what you're doing or where you are, you will be having thoughts about meth, it will be on your mind. Money, who's going to sell it to you, when you're going to take it, how it's going to feel, all of those things will be rushing through your mind almost constantly.
The Risks Of Using Methamphetamine
One of the worst problems with methamphetamine use is the horrific meth face that you can develop.
It attacks the gums and destroys your teeth and gums completely. Facially, you will start to look sunken around the mouth.
Because you aren't eating you will lose muscle tone and energy. Your skin will go grey, and you will look gaunt and haunted.
Because you are so stimulated and aren't sleeping properly, you will look and feel exhausted. At this to the rest of the facial effects and it can almost bring on half dead appearance once you are fully addicted and heading down the line.
There are also social risks. You will lose everything eventually. You can't keep juggling it forever, and you can't keep hiding the signs.
You also cannot keep paying out increasing amounts of money when you are wanting to work and earn money less and less.
The Positive Feelings That Get You Hooked
Although people mostly get addicted crystal meth because of the spike in dopamine and adrenaline it produces, alongside the addictiveness of the substance itself, is the positive feelings it induces.
Some may use it to get high, while others may use it to stay awake. But whatever the main feeling that drives it, it's all about pleasure.
In the beginning it can really mask the horrific danger you are in. By the time the positive feelings start to become an escape from the overwhelming horror of what the drug has done to your life, it's too late.
Side Effects That Will Get Worse
When it comes to side effects of crystal meth, in the beginning they can be tolerable. They can seem like a bearable downside the pleasure you get using it.
However, very quickly the side effects will become horrific. It becomes a spiraling problem as well because of the side effects.
Because the comedown feels so awful, you start to want to take it to offset that, to stay in a good place. So use becomes more frequent.
That means you start to fear the side effects, which drive increased frequency of dosing. The side effects get worse because this cycle. When you can't get meth, you feel so hideous that you will do almost anything to get your hands on it again.
One side effect that can be a huge issue in the long term is seizures. This is alongside a diminishing in the cardiovascular system, and increase pressure on the heart, lungs, and kidneys.Seizures can be fatal, and can also lead to stroke and other serious health conditions as your addiction progresses.
Your Appearance & General Health Will Diminish Dramatically
When using meth, one of the biggest problems is the change in physical appearance that quickly becomes so noticeable that it's impossible to hide.
The problem with meth is that it affects the part of our brain which is related to decision-making, which means we have a warped sense of proportion. This stops people getting help or seeing the problem, because they are delusional.
Basically, you become absolutely incapable of seeing the damage that is being done. Because the cycle is so frequent you don't even have time to step back and take a look at the mess that taken place.
But eventually you will notice and others certainly will unless the only people you know are also users.
Muscle wastes away through malnutrition. Problems in the mouth occur, and you are generally exhausted when not stimulated by meth. All of that together makes you look skeletal, weak, pale, and half dead. Almost at times unrecognizable.
Don't think this can't happen to you. If you are in the early stages of meth use, I'm telling you it can come on quick. In a matter of weeks, because the delusion is so bad that by the time you realize, it's too late a few months down the line and your entire life is destroyed.
Can You Take Crystal Meth Recreationally?
In the beginning you will fool yourself that you can keep control on this, you can keep a lid on it. You can take Crystal meth recreationally and be fine.
But it just isn't reality. What happens once happens again. It happens with bigger doses, and it happens more frequently. You can't stop the snowball running down the hill unless you have an incredible sense of self-awareness, which the crystal meth is chipping away at every single time you take it.
It literally dismantles the part of your brain that allows you to make an objective decision making, turning you into an unpredictable, aggressive, deluded, and erratic.
This will creep into your normal life both financially and in terms of your interpersonal relationships. It always does, and you would be the only person on earth who manages to avoid it if you did.
Crystal meth even destroys the dopamine receptors. That means you are chasing that high and wonderful feeling with higher and higher doses and actually having little chance of actually getting the rewards you are seeking.
That is the point of no return. You will then do anything to try and get that feeling, huge doses, all the time. The frustration of never quite getting there, never getting that reward again, drives criminality, despair, anger, and an even more rapid onset of the problems.
So please don't fool yourself, look at what I've been telling you here. You simply cannot take crystal meth is an occasional recreational substance.
It is simply too addictive. Because of how it targets the reward and decision-making hormone and areas of the brain, and gives you a rushing high at the same time, it is targeting the very center of your central nervous system, tearing it out and destroying it so that you are stuck in an endless loop of trying to get a feeling like you experienced at the beginning.